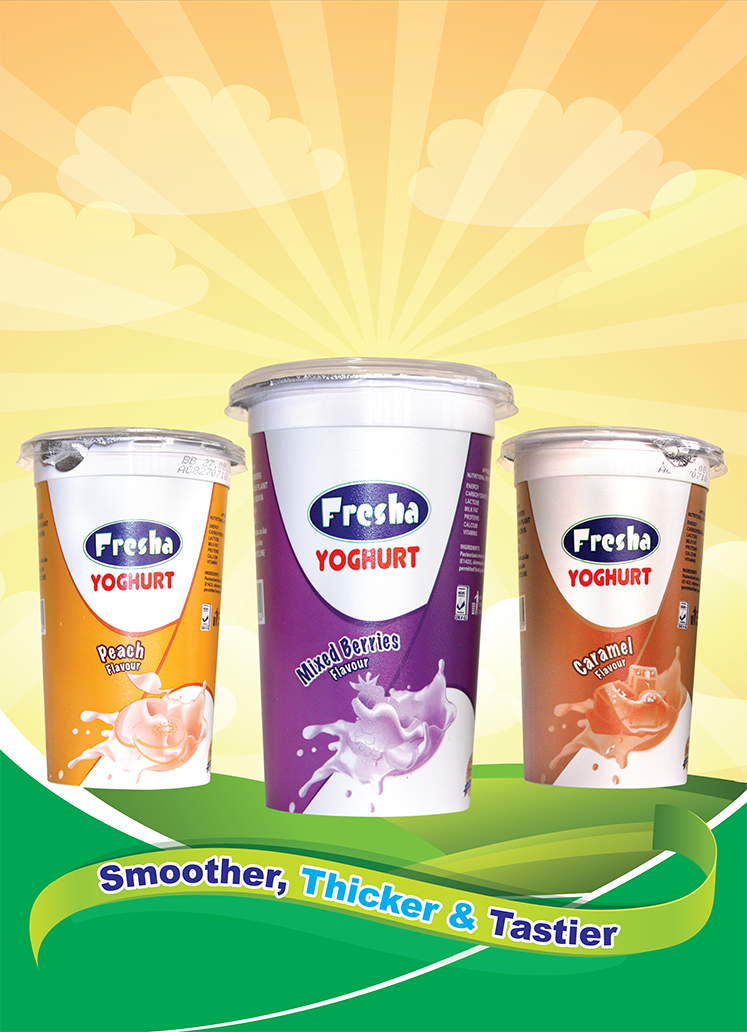 Fresha Flavored Yoghurt
Fresha Yoghurt is made from 100% pure milk, cultured to give it that yummy,
creamy and smooth taste. Give yourself and your family a really tasty fresh
experience while you travel, picnic, have fun or just relax at home. Whether in
cold or hot weather, Fresha Yoghurt will leave you refreshed, energized and
fulfilled.
Fresha Flavoured Yoghurt cups are packaged in 150ml, 250ml in 12 pieces
per tray and 500ml in 6 pieces per tray, and bottle is available in 250ml and
500ml packs.
Fresha Yoghurt comes in yummy and creamy flavours such as
Strawberry, Vanilla, Pineapple, Mango, Passion, Mixed berries, Caramel and
Peach.
Fresha Yuppi Yoghurt
Fresha Yuppi Real Fruit Yoghurt is specially made with natural real fruits and
is rich in calcium, protein and vitamins to keep you healthy and refreshingly
strong.
It's available in Strawberry, Apricot, Tropical and Peach variants packaged in
250ml (12 pieces per tray) and 500ml (12 pieces per tray) bottles.
Ingredients; Whole Milk, Real Fruit Pulp, Skimmed Milk Powder, Stabilizer,
Live Cultures.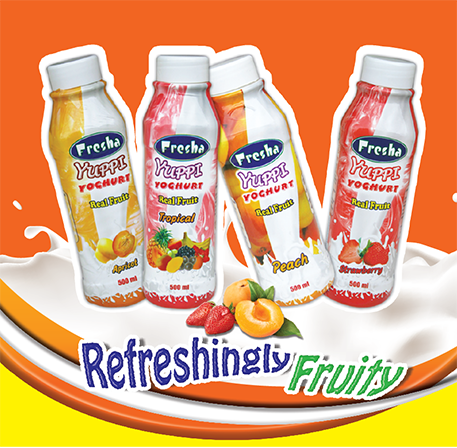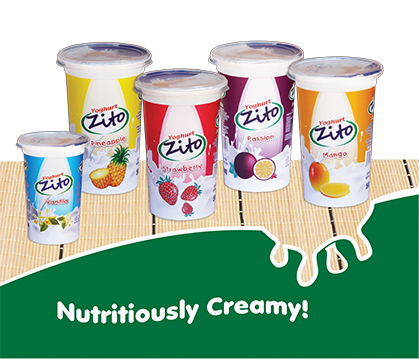 Zito Yoghurt
Zito Flavoured Yoghurt is carefully processed to ensure the yoghurt maintains full flavour and the nutritious refreshing taste.
Zito Yoghurt, Nutritiously Creamy.

FIND US
Githunguri Dairy Farmers Co-Operative Society Ltd.
P.O Box: 3 Githunguri
Plant Tel: 020 2130885-7
Plant Fax: 020-2535245
Mobile: +254 705787878/ +254 706626262
E-Mail info@fresha.co.ke
QUICK LINKS
Vacancies
Become a Distributor
Tenders
News