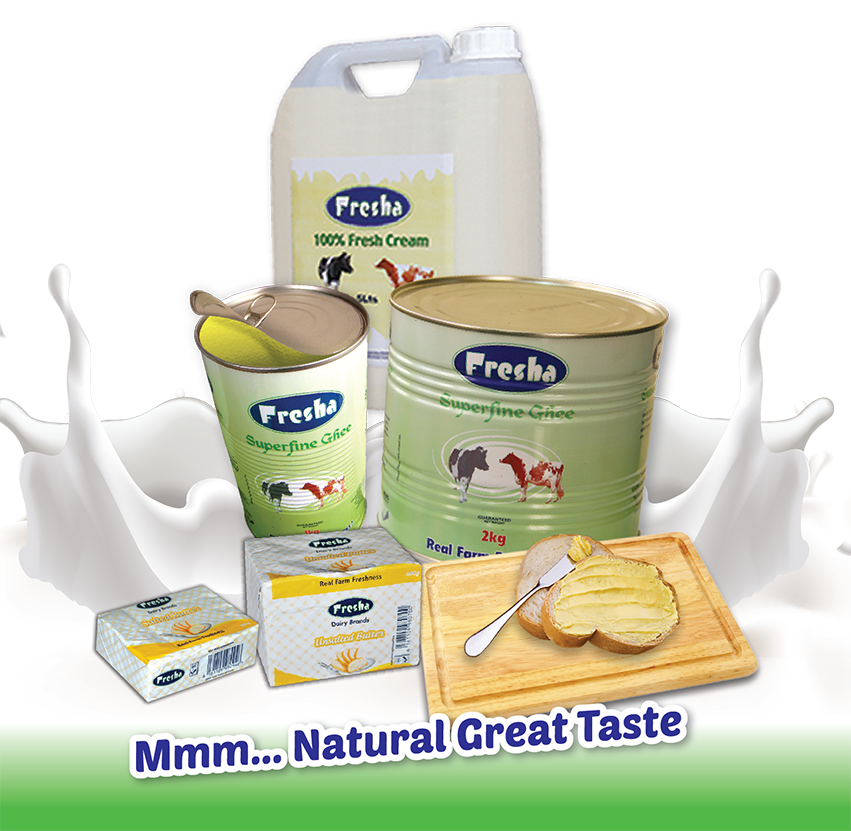 Fresha Butter, Cream and Ghee
Fresha Super Fine Ghee is made from high quality 100% fresh milk cream. It
has a pleasant, natural aroma of unadulterated ghee to give your food a
delicious, unique rich taste. Fresha Super Fine Ghee has no artificial food
colours, flavours or preservatives.
Fresha Butter is processed from 100% pure pasteurized milk cream for a fine
texture that's easy to spread. It is ideal for preparing pastries and
confectioneries. It's available in both salted and unsalted wrappers of 250gms
and 500gms and also 5kg and 10kg bulk packs.
Fresha Cream is made from 100% fresh cream milk and has a perfect texture. It is perfect for cooking savoury dishes, soups as well as deserts.

FIND US
Githunguri Dairy Farmers Co-Operative Society Ltd.
P.O Box: 3 Githunguri
Plant Tel: 020 2130885-7
Plant Fax: 020-2535245
Mobile: +254 705787878/ +254 706626262
E-Mail info@fresha.co.ke
QUICK LINKS
Vacancies
Become a Distributor
Tenders
News